Solutions
Social Data Systems has deep experience addressing the unique needs of social enterprises operating in multiple industries around the world. We offer a host of customized solutions that provide additional benefit to our customers and extend the functionality of the NetSuite platform.
The single most important benefit most nonprofits are looking for, leading them straight to NetSuite, is the ability to combine their financial system with their fund raising systems, eliminating the need to enter data and run reports in two (or more) place.
But while migrating financials and donor data is one thing, migrating gift history, often times going back decades, without affecting the G/L, is another. Fortunately, Social Data Systems has developed a solution to migrate everything you need for both.
Leveraging the power of NetSuite for Nonprofits, Social Data Systems can work with your development team to migrate data from virtually any legacy fund raising system into NetSuite, typically providing the same level of reporting capabilities the previous system offered and more.
Social Data Systems has deep experience migrating donors and gift history for organizations using the most popular legacy platforms, including:
Salesforce
Blackbaud (all)
Raiser's Edge
eTapestry
GiftWorks
DonorPerfect
Donation Page
---
Social Data Systems' Donation Page integrates directly with your NetSuite account. When a donor makes a donation or submits sponsorship, their Donor record and the transaction are both immediately recorded in the NetSuite account. The credit card is charged and the acknowledgement sent. No separate system, login, export or entry is needed.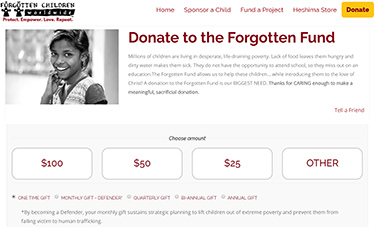 Child Sponsorship System
---
Sometimes the quickest way to add data to NetSuite is through CSV imports. SDS has developed a method that allows bookkeepers, development directors and others to create Excel™ templates that pull data, such as customers, vendors, accounts and items from NetSuite, making the preparation of CSV imports quicker and more accurate.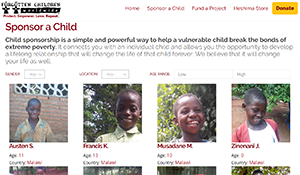 Shopify Integration
---
If your company has an existing webstore on the Shopify platform or is considering a Shopify store, Social Data Systems can help integrate it with your NetSuite account. Using a low-cost, third-party connector, we'll connect your ecommerce platform with NetSuite to:
Add new customers
Synchronize existing customers
Synchronize orders, fulfillment, credits and payment
Integrate inventory management
Custom Point-of-Sale
---
Our NetSuite Point-of-Sale solution gives organizations the ability to sell product in their retail stores or at workshops and events. The solution runs on any Windows-based laptop or Surface, and includes a product scanner, cash drawer and thermal printer. The system uses all the native NetSuite features, forms and credit card processing capabilities. Our solution is currently in use by:
Habitat for Humanity
The Gerson Institute
San Diego Futures Foundation
Karama Collection
Event Registration and Payment
---
Our Online Event Registration system enables organizations to take event registrations online, process credit cards and receiving notifications when registrations have occurred, all within NetSuite. The system is used by organizations whose customers and clients need to register for training classes, workshops and other types of events. The system is fully integrated with NetSuite and provides:
Web-based registration
Integrated Payment Processing
Calendar Management
Classroom Management
Attendee Scheduling
Resource Management
Attendee Reminders